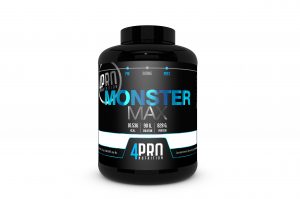 MONSTER MAX is a food supplement based on carbohydrates, proteins, aminoacids with sugar and swetener.
INGREDIENTS: Dextrose, maltodextrin, whole oat flour, corn starch (waxy maize), whey protein concentrate, milk protein, cacao powder (10 – 12 % theobroma cacao), chocolate flavor, creatine monohydrate, Taurine, soy lecithin (emulsifier) and sweeteners (sucralose E-955).
RECOMMENDED USE: Mix 2 scoops (100g.) in water or milk. Take 1-3 servings daily between meals and / or 1 hour before and after workout. Consume immediately after preparation.
WARNING: Do not use if you are allergic to any of the supplement compounds. Do not exceed the recommended daily dose. Food supplements should not be used instead of a varied, well-balanced diet. Do not use if pregnant or nursing. Keep out reach of children. Store in dry and cool place. Protect from direct light.